Archive for November, 2003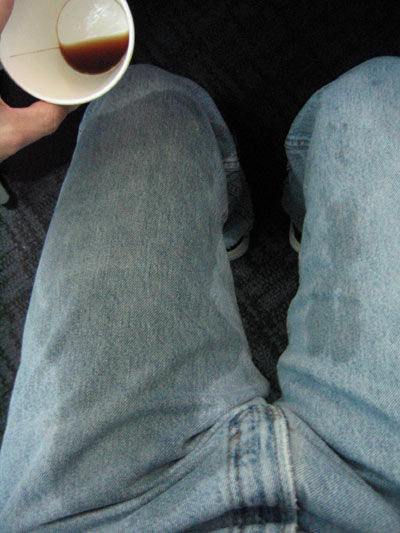 I Love Coffee! But maybe I should start using the coffee holder that comes with my desktop.
BTW – The Miles Davis reference is from: Billy Madison.
Happy Thanksgiving everyone!
From www.sajjadzaidi.com, who in turn got it from http://geocities.com/warmarketing:
"Of course the people don't want war… that is understood. But, after all, it is the leaders of the country who determine the policy, and it's always a simple matter to drag the people along whether it's a democracy, a fascist dictatorship, or a parliament, or a communist dictatorship. Voice or no voice, the people can always be brought to the bidding of the leaders. That is easy. All you have to do is tell them they are being attacked, and denounce the pacifists for lack of patriotism and exposing the country to danger. It works the same in any country."
Hermann Goering, Adolf Hitler's Deputy Chief and Luftwaffe Commander, at the Nuremberg trials, 1946
Several months ago I started looking into the feasibility of building an Outlook to iCal bridge. That project soon fell off the TODO stack, because it seemed a) uninteresting b) like something that would be released by someone else within a few months. I was right on both counts.
I'm now using GroupCal by Snerdware. It's good stuff! Allows you to subscribe to your Exchange calendar as an iCal Calendar. I'm not sure if it requires Outlook Web Access to be configured for exchange (but I suspect it does). Anyway, if this is something you've been looking for, it's out in Beta version right now…
Drove out to Las Vegas for ApacheCon with Scott and Amanda on Friday evening. That's a long drive from the Bay Area. I feel like I've learned a few new things about traveling in general, and Vegas in particular, over the few days we've been here so far:
There are few things worse for a geek/internet addict than the promise of free broadband that fails to deliver. Such is the case at the Alexis Park (where we're staying and ApacheCon is being held). Lot's of infrastructure in the rooms for broadband, but no love for us.
Sometimes you are hungry and/or drunk and/or broke. If two or more of those describe you, and you're in Las Vegas, you should stop by the Bourbon Street Casino and eat some $3.49 Steak & Eggs.
Sometimes you feel like eating some really good food for not much money. In that case you should go to the Le Village Buffet at the Paris Casino. It was great, relatively deserted and they had a wide variety of food for right around $20. We also went to the Bellagio Buffet last night. It wasn't as good, cost more and there were more people…
Coffee shops that offer free wifi are truly excellent! Without really looking we stumbled across The CoffeeBean on Paradise Ave. Free (fast) WiFi, good coffee and big tables. Good stuff.
The $5 Blackjack game at the Barbary Coast was kind to me, I'm sure that will change in time, but they had cheap table games on a Saturday night and gave me back the money they took from me at the Roulette table.
Always bring a (self-contained, not stovetop or french press) coffee maker when you travel. At least if you're a total coffee junkie. Note: This only really applies if you have broadband in the room, the Alexis Park has precluded the need for a coffee maker by not having broadband, thereby necessitating that we leave the room to find BOTH (see Coffee Shop entry above)…
I'm sure I'll have more "quality observations" after going to ApacheCon (and hopefully Comdex).
Coolest inventions of 2003 (Time.com)
An article by Bush Sr. entitled Why We Didn't Remove Saddam that was yanked from Time's website for some reason or other…
An interesting "future-documentary"-style article entitled How China surpassed the United States (I'm sorry that I don't remember where I saw the original link to this).
A pretty cool blog that Alex pointed me to. I can really relate to this comment on the Apple Store:
Problem is, now when I walk into the store, my cash spending reflexes kick in and I can't get out of the store until I plunk some cash money at the register
While discussing the G5 benchmarks.
Real-world benchmarks
In iTunes on my dual-G5 I can stop the M.C. Hammer track, "U Can't Touch This" in less than a 10th of second.
One of my friends send this to me:
White House Puts Limits on Queries From Democrats

By Dana Milbank
Washington Post Staff Writer
Friday, November 7, 2003; Page A29

The Bush White House, irritated by pesky questions from congressional Democrats about how the administration is using taxpayer money, has developed an efficient solution: It will not entertain any more questions from opposition lawmakers.

The decision — one that Democrats and scholars said is highly unusual — was announced in an e-mail sent Wednesday to the staff of the House and Senate Appropriations Committees. House committee Democrats had just asked for information about how much the White House spent making and installing the "Mission Accomplished" banner for President Bush's May 1 speech aboard the USS Abraham Lincoln.

The director of the White House Office of Administration, Timothy A. Campen, sent an e-mail titled "congressional questions" to majority and minority staff on the House and Senate Appropriations panels. Expressing "the need to add a bit of structure to the Q&A process," he wrote: "Given the increase in the number and types of requests we are beginning to receive from the House and Senate, and in deference to the various committee chairmen and our desire to better coordinate these requests, I am asking that all requests for information and materials be coordinated through the committee chairmen and be put in writing from the committee."

He said this would limit "duplicate requests" and help answer questions "in a timely fashion."

It would also do another thing: prevent Democrats from getting questions answered without the blessing of the GOP committee chairmen.

"It's saying we're not going to allow the opposition party to ask questions about the way we use tax money," said R. Scott Lilly, Democratic staff director for the House committee. "As far as I know, this is without modern precedent."

Norman Ornstein, a congressional specialist at the American Enterprise Institute, agreed. "I have not heard of anything like that happening before," he said. "This is obviously an excuse to avoid providing information about some of the things the Democrats are asking for."

Campen's e-mail wording suggests the policy may extend to other inquiries about the functioning of the Executive Office of the President, but the immediate targets were the spending committees. For years, those panels had a strong bipartisan tradition in which the majority party generally joined the minority in tough oversight of the administration.

Brookings Institution government scholar Thomas Mann said the Democrats have little ability to challenge the decision. "This is just one of many instances where Republicans have a legal basis for what they're doing, but it violates long-standing norms," he said. All the Democrats can do, he said, "is carp."

The White House said it is in discussions to reach an amicable compromise. "There have been staff-level discussions about ways to better coordinate requests from Congress," said spokeswoman Ashley Snee. "It was not the intent to suggest minority members should not ask questions without the consent of the majority."
So, now I've got this "Un-Rated" playlist on my iPod (as detailed in an earlier post). Now I feel this compulsion to listen to all of my unrated songs and assign them ratings.
This is a bad thing because I have approximately 4000 unrated songs (excluding Audio Books) on my iPod. However, this is also something of a good thing because I'm listening to my music collection a song at a time (instead of as general background noise) and running each song thru a simple, mental, rules-engine that looks something like?
Do I hate this song? = 1 star (not 0 stars as this would leave it in the un-rated playlist)
Do I not want to hear this song again, but don't hate it? = 2 stars
Would I not mind listening to this song again, but wouldn't seek it out? = 3 stars
Do I want to listen to this song again soon? And probably again soon after that? = 4 stars
Would this be one of the songs I would want if I could only listen to 100-odd songs for the rest of my life? = 5 stars

You can see that I'm making this whole 5-star range cover a very wide range of emotional response. As you can probably guess, there are a lot of 3 star songs out there!
Two somewhat interesting articles on the potential uses for an need of more powerful file-systems in Longhorn.
One from eWeek about the evo-not-revo-lutionary nature of Longhorn's file-system.
A WebLog from JupiterResearch about, well, pretty much the same thing.
Just thought these were interesting reading if you're a metadata and database-type geek.
As a relevant aside: I am continually amazed by the lack of innovation we see coming out of Redmond, when they've (supposedly) got both the $$ and the people to make it happen. One could well ask Microsoft, where was iTunes for Windows? We saw the standard FUD after the fact, but where was some real competition from WMP?