Archive for the 'review-lite' Category
Following several separate occasions on which I spent hours at a time unable to make calls from my Treo 600, I decided to upgrade to a Treo 650.
This was an unusual consumer experience, as I kept going from store to store trying to get a deal. I'd go to Fry's to look at Sprint phones (got 'til October on the contract ya' know), then I'd go to the Sprint store, then I'd come home to do research online. Every time I'd get home my wife would ask, "Did you buy a phone yet?", and I'd say, "No, they either suck or are too expensive." She was actually getting a bit pissed that I wouldn't pull the trigger and buy something (anyone who knows my regular buying habits realizes this is a bit out of character for me). Finally I got sick of trying to save $100 or $50 or $150, went to the Sprint store and just bought the phone.
First impressions:
– The screen is awesome!
– Buttons are just different enough to confuse my Treo 600 muscle-memory (on which I could touch-type)
– Quick Launch/Phone screen is a major improvement
– Why did they have to change the connector?! Now I have to buy another retractable USB charging cable.
After using the phone for awhile:
– The NVFS file system isn't a big deal
– Bluetooth is really awesome in unexpected ways, and lame in the way I thought it would be cool
– Amazing: bluetooth sync, dun and salling clicker!
– Lame: headsets are static'y
– Battery life is really excellent
– The screen is truly amazing
"Must have" list for the Treo 650:
– Free 128mb SD Card from PalmOne to make up for the NVFS issues (NOTE: I waited long enough to post this that I've already received this card 😉 ).
– Salling Clicker – Perhaps the coolest thing you can do with tha' 'toof
– iSync Palm Conduit
– The Missing Sync – Allows hotsync via bluetooth and some other cool things
– How to get Bluetooth DUN working: http://vocaro.com/trevor/treo-dun/
My moment of Zen:
Riding in the car on the way to Sacramento, VPN'd into work on my Powerbook over bluetooth, Remote-Desktop'in to my work machine. It was totally usable! As I IM'd to Scott, 'I'm living in the future!'.
I've recently been asked to make a lot of 4×6 prints for family members. This is nice, and I know why everyone likes 4x6s, but they're HUGELY time consuming on my Epson R300 (and have low ROI from my perspective, 'cause I really like 8x10s). I've tried Ofoto.com, and they're nice and cheap, but their prints are sortof crappy. They're dark and muddy and … well … cheap looking. They look like bad drugstore film prints.
Pictopia.com makes great prints (and I've sung their praises before), but they're a bit pricey for 8x10s and don't even offer smaller prints. Great for "fine art" prints, but not what I'm looking for in this case.
So, I spent a few quality hours with Google this weekend looking for the following things:
Great prints – This is obviously the most important one, because if I want crappy digital prints I can go to Costco or Walmart. Ideally I want better prints than I can make.
Cheap – Now, from my perspective, cheap is less than $1 per print, but I understand that for most people, cheap would be less than $0.40 per print, so that's what I'm looking for.
Reasonable uploads – From worst to best: One file at a time via http, applet-based file browser, thick-client or plugin, FTP access.
Simple bulk ordering – It's very likely that I will get into some sort of event photography in the near future. I would like the ability to generate a proof-book, order tons of duplicates, albums, etc. without too much of a headache.
The resultant list was:
Mpix.com – Cheap, supposed to be good, miserable upload process, basically like a high-quality ofoto.com. I ordered some test-prints from these guys. One big negative, they charge $5 for USPS ground shipping regardless of the number of prints you order… very odd.
Pictage.com – Very oriented towards event/wedding photos, expensive, supposed to be great quality, good uploads (I think), expensive… and finally… expensive. I did not order prints from these guys.
WHCC.com – The current winner (from a feature perspective). FTP image uploads, "thrifty or quality" file handling (not different printing, just allows you to do as much or as little processing as you want prior to uploading the files), very (unbelievably) cheap, a reputation for quality prints, and a great "signup process"… really an excellent setup. I hope the prints are awesome, maybe then I can sell my printer 😉
I'll follow up on all of this when I get the test prints.
If you haven't been following the saga of the Delkin Cardbus32 and Delkin's support (or lack thereof) for OSX here's a short (self-centered) history:
– I posted this summary of my problems.
– Delkin issued an apology for taking so long with the drivers. Here's the letter on Rob Galbraith's site.
– Delkin recently released new driver's for OSX (available here) that don't require restarting your laptop every time you want to download a CF card.
I tested it yesterday on my newly-rebuilt fresh-from-Apple laptop (that's a whole other story) and it seems to work fine. It's FAST, and was worth the wait. If you download images in the field to a Mac laptop, this is the way to go!
I originally posted this in the forums over at FredMiranda, but thought it might be generally useful:
Not a comprehensive test, but I compared the same 10D RAW file converted thru Adobe CS Raw, C1 and the new EOS Viewer Utility. My impression of the final picture quality (particularly color rendering), from best to worst:
#1 – C1 – Very balanced color rendering for the default 10D profile
#2 – EOS Viewer Utility – A bit more saturated on the red channel, but still generally balanced, surprisingly close to C1
#3 – Adobe CS Raw – Somewhat strange handling of the green channel…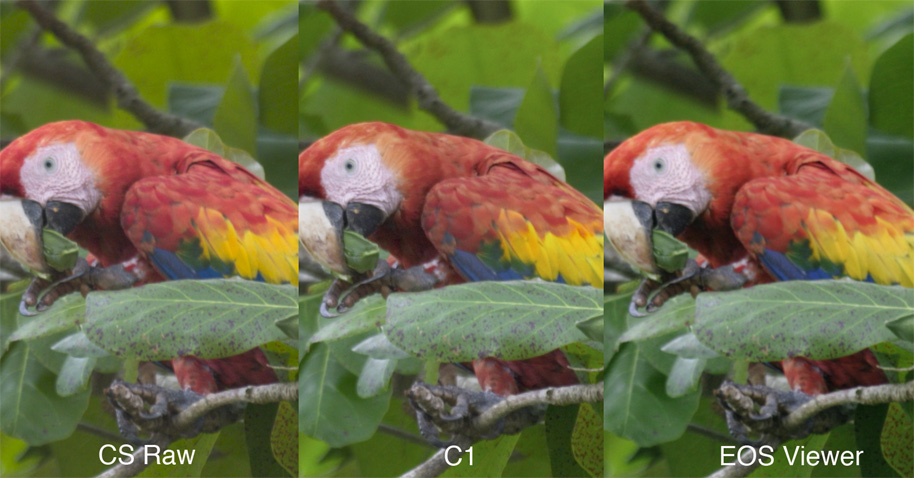 Note: This image will not look right in a browser that ignores color-spaces (which is most of them). It has also been constrained using a width tag. I converted the images to 240pixel/inch 16bit tiffs, and am shooting Adobe RGB color space. I left all the conversion settings to the default except for noise removal and sharpening (which I set to none for all converters). I've included a small comparison image, but it's impossible for me to know what you'll see on your monitor, so you may not see what I'm seeing in the files. I know I should have shot a color chart, but a) they're expensive and b) I don't have one. In any case:
Perceived sharpness (local contrast?) was very similar between C1 and EOS Viewer, and a bit lower for CS. All three sharpen up very well (either using USM, or the sharpness settings in the converter).
EOS Viewer advantages:
– Price = free
– Quality
– Improved (and finally usable) speed
EOS Viewer disadvantages:
– Lacks the workflow support of C1
– Lacks the PS integration of CS Raw
Personally I'm planning to get C1 (the workflow piece is really slick), but that purchase will come sometime after a 1D Mark II (priorities ya' know). For the present I'm planning to use EOS Viewer for most of RAW conversions. I'm as surprised by this as anyone, as the original File Viewer Utility was pretty bad!
I ordered a Delkin Cardbus 32 CF adapter last week. This was intended to solve the "what is the smallest device I can use, that doesn't have any cables hanging off it, that's still really fast, to copy CF (I/II) cards to my laptop" problem… you know the one I mean. It's a bit pricey (about 3x the cost of an external USB 2.0 reader), but it's supposed to be as fast as Firewire or USB 2.0, and the form factor is great.
Yesterday (in anticipation of delivery) I went to download the OSX drivers from Delkin. Bad news, the OSX beta drivers require that you "Shut down the computer and insert the CardBus adapter (with CF Card)." This is a major deal killer. I waited until I got the card this morning and tested. Sure enough, carefully eject the disk, power off the card from the menu, eject it, re-insert it and… voila, kernel-panic and a reboot (which does simplify the "shut down the computer" step, but not in a good way). Here's what I've done to attempt to rectify the problem:
1) Called Delkin support and asked "When will there be a production OSX driver?" He didn't know, but assured me that they were working on it and he'd email me when it becomes available. I considered returning it, but it's just one of those cases where I'd end up buying it again when the drivers came out, so why waste shipping…
2) Learned a fair amount about Kernel Extensions in OSX. This is really cool stuff, and I've gotten to the point that I understand the problem… and know that I can't fix it… which is basically a bad but interesting place to be. When you insert the Cardbus 32 card it loads an extension named CF32A.kext (and a "personality" named NinjaSCSI or something, I can't remember and don't want to reboot my machine again). If you manually load this extension using kextload it can be unloaded and subsequent reloading/unloading can be performed with no problem. But as soon as you actually insert the card it becomes impossible to unload the extension (using kextunload).
C'mon Delkin… just a little more work and this will be a really cool accessory!
Several months ago I started looking into the feasibility of building an Outlook to iCal bridge. That project soon fell off the TODO stack, because it seemed a) uninteresting b) like something that would be released by someone else within a few months. I was right on both counts.
I'm now using GroupCal by Snerdware. It's good stuff! Allows you to subscribe to your Exchange calendar as an iCal Calendar. I'm not sure if it requires Outlook Web Access to be configured for exchange (but I suspect it does). Anyway, if this is something you've been looking for, it's out in Beta version right now…
Drove out to Las Vegas for ApacheCon with Scott and Amanda on Friday evening. That's a long drive from the Bay Area. I feel like I've learned a few new things about traveling in general, and Vegas in particular, over the few days we've been here so far:
There are few things worse for a geek/internet addict than the promise of free broadband that fails to deliver. Such is the case at the Alexis Park (where we're staying and ApacheCon is being held). Lot's of infrastructure in the rooms for broadband, but no love for us.
Sometimes you are hungry and/or drunk and/or broke. If two or more of those describe you, and you're in Las Vegas, you should stop by the Bourbon Street Casino and eat some $3.49 Steak & Eggs.
Sometimes you feel like eating some really good food for not much money. In that case you should go to the Le Village Buffet at the Paris Casino. It was great, relatively deserted and they had a wide variety of food for right around $20. We also went to the Bellagio Buffet last night. It wasn't as good, cost more and there were more people…
Coffee shops that offer free wifi are truly excellent! Without really looking we stumbled across The CoffeeBean on Paradise Ave. Free (fast) WiFi, good coffee and big tables. Good stuff.
The $5 Blackjack game at the Barbary Coast was kind to me, I'm sure that will change in time, but they had cheap table games on a Saturday night and gave me back the money they took from me at the Roulette table.
Always bring a (self-contained, not stovetop or french press) coffee maker when you travel. At least if you're a total coffee junkie. Note: This only really applies if you have broadband in the room, the Alexis Park has precluded the need for a coffee maker by not having broadband, thereby necessitating that we leave the room to find BOTH (see Coffee Shop entry above)…
I'm sure I'll have more "quality observations" after going to ApacheCon (and hopefully Comdex).
After installing Panther last night Emacs 21 (the non-Teminal one) stopped working. I tried to re-install it and managed to also hose my Terminal's Emacs. A quick Googl'in later and I found instructions on how to build an OS X version of Emacs from CVS. I followed the directions exactly and it "just worked" (it also "just took" about 40 minutes, which seemed like a really long time at 2am).
An un-related aside: Scott is engaging in a little Real Estate style GoogleSpam. Figured I'd lend my linkal support to his experiment.
Well, I went to the Panther release event at the Palo Alto store. The line stretched around the block (compared to the iPod Gen III rollout which was much smaller). Bought Panther, narrowly avoided buying an iSight (I'm really compulsive in that store for some reason), and came home to install OS X 10.3 on the Powerbook 12.
As usual Apple provided a seamless install (All 4 discs of it, including XCode), but I couldn't get some of the editable areas in Safari or Mail to work (i.e. they weren't editable, and the applications hung). I remembered that I had both SIMBL (for SAFT) and Cocoa Gestures installed (I would provide links to these, but I'm not suggesting you install them). I deleted both those InputManagers (needed to reboot in the case of SIMBL) and Mail/Safari were all better.
Good news all around.
There is no discernible loss of battery-life when using the 7200rpm hard drive (based on a stopwatch test doing "light" work, e.g. Java development, running our server, reading email, browsing, playing iTunes). As an added bonus, I haven't noticed any additional heat via the left palm-rest (or via TemperatureMonitor).
The fact that the faster drive performs on par (from a heat/load perspective) with the 4200rpm drive isn't entirely unexpected. There was a working hypothesis that because of the better bearings and identical power consumption performing read/write (tho' it does use more power during spinup) there wouldn't be more heat or less battery-life. Thankfully that hypothesis has proven true for me…
I ordered one of these from Transintl.com yesterday. (In case you don't want to follow the links it's a 7200rpm notebook drive. Got it this morning, created a copy of my drive using Carbon Copy Cloner (an AWESOME program) and proceeded to rip apart my poor unsuspecting Powerbook 12.
The install went fairly smoothly (Apple could make these things a bit easier to work on) except for a bit of a sticking point removing the top of the latop. I followed the instructions here and would only suggest that when all the screws are out that you lift the top off the case from the front, not the back (thankfully aluminum is pretty forgiving).
Anyway, my laptop feels a TON faster! It's also close to 40% faster according to XBench. I can run our server, Photoshop, iTunes, Mail, emacs and still switch between them (which causes paging, 'cause I don't have enough ram… waiting for the 1gb dimms to get cheaper first) without the machine choking!
I would recommend this mod to anyone who wants to significantly improve the performance of their laptop…
I picked up Neal Stephenson's new book "Quicksilver" yesterday. Only about 50 pages into it (how embarassing), but it reads like Cryptonomicon (perhaps my favorite book to date). Pick it up and support the franchise!
I got the adapter installed in the Corolla. It worked pretty well, but I had to rip off the dash three times to detemine what tools I would need (entirely my bad). Consequently I have a smattering of pictures that would probably be worse than useless for a DIY guide.
My experience with Bluetooth up until now has left me with mixed feelings. On the one hand I have always been quite excited by the promise of Bluetooth. On the other hand, I have had very different experiences with the two Bluetooth implementations I've experienced. Two experiences, 180 degrees apart:
Basically it comes down to this. The FreeSpeak promised to make my cell phone more usable, but sacrificed much of the user-experience while not materially delivering on the wireless headset promise. My Powerbook (on the other hand) uses Bluetooth as an enabling technology without sacrificing anything from a usability perspective. Apple continues to impress me with it's ability to integrate "new" technologies such that they improve the overall experience without making you constantly aware than you're doing something technically complicated.
I am looking forward to two developments on the Bluetooth front:
I got a D-Link D-624 4-port DSL/Cable wireless router a few weeks after getting my new Powerbook 12″.
It was (relatively) painless to set up, and the transfer speed was awesome between the powerbook and my desktop. Then, a few weeks after I got the D-Link it stopped working with the "Airport Extreme" (Apple's name for 802.11g) card in the Powerbook. I could connect to the router, but it would not issue a DHCP address. It continued to work with the "Airport" (802.11b) card in the old Powerbook.
Around this time one of my neighbors had set up a Linksys router (I know this because it showed up in the list of available networks for a few hours until they hid the SSID). Well, <sarcasm>being the analytical debugger that I am</sarcasm>, I spent about two hours trying a bunch of network voodoo-type remedies (reset everything three times, reboot the laptop, reset everything again, reconnect every cable, upgrade the firmware… you get the idea)… nothing worked. So, network voodoo having failed I settled for network frankenstein and hooked my old Linksys wireless router up to the D-Link for the Powerbook to use, and settled down to wait for new firmware.
Well, new firmware has arrived for the D-Link D-624, and I updated, and it was good, and there was much rejoicing. My old Linksys has been laid to rest to await the day when it will again be called forth to save the home wireless network…
I read the new Harry Potter book (Order of the Phoenix) this weekend. These certainly aren't the best books I've read (by a fairly significant margin), but there is something frusturating while also engaging about the story, and Harry's character, that keeps me coming back. I'm a sucker for series with a bunch of long books in them and will tend to read the newest book in the series, even if the last one wasn't particularly good (case in point: Robert Jordan's Wheel of Time series which I read 9 books of, at about 1000 pages per book, before the repetitive nature of the narration and the HORRIBLE story-line got the better of me and I gave up). Anyway, this is probably the best of the Potter books yet. There are a few moments of reasonably good writing from Rowlings (such as "the newly minted look of the sunlight" that let's Harry know it's early morning), but she's not straying far from the formula. Can't say I blame her. She's probably the Tolkein of our generation… we're doomed.
I ordered my first photos from Pictopia on Friday of last week. Easy to use site, reasonable prices, photoshop profiles provided and a two day turnaround. This morning the pictures were in my hand. I was a bit worried about color balance but they turned out great. I'm pretty impressed with the shipping packaging; simple, but strong enough to protect the package during reasonable (even by FedEx standards) handling (reminds me of NetFlix packaging). Here are some (crappy) pics of the packaging, etc. (looks like Ansel took these, eh?):

Bought the D-Link "AirPlus Xtreme" Wireless Broadband Router from Fry's (aka Outpost.com) last night for $99 (which becomes $79 after $20 mail-in rebate). This is an excellent price when you consider that the Airport Extreme base station from Apple costs around $250. The D-Link doesn't offer as many features as the Airport (I'm thinking of a Printer connection, AppleTalk and built-in Modem), but if all you're looking for is 802.11g this is definitely the way to go. D-Link is also the only manufacturer (other than Apple, obviously) to specifically support Macs (claims Windows, Mac and Linux compatibility on the box) they even sell this thing in the Apple retail stores.
Setup took all of 5 minutes and was accomplished via my 12in Powerbook over Airport. Pretty slick. I then copied a 700mb movie from my desktop to my laptop which took about 6 minutes. Not blindingly fast, but MUCH better than the old 802.11b Linksys box. Biggest positives: great intra-network connection speed and ease of setup. Biggest negative: doesn't look as cool as the Airport Extreme Base Station and supposedly has trouble with some of the Dell internal wireless cards (sorry Scott).
From Photo.net:
I've bought a 10D. I think it's the first really usable Canon EOS DSLR and the price $1500, while still high, is low enough to make the move. Think of it this way. If you bought a new D30 two years ago and wanted to sell it today, you'd lose maybe $2300. If you bought a new D60 last year and wanted to sell it now, you've lost around $1100. With the 10D I don't know what it will be worth in a year's time (that depends on what else Canon introduce), but I doubt you could lose more than $500. $500 is 50 rolls of film.
In case you were looking for a reason